Updated Price List of schedule 40 welded steel pipe and 304 stainless steel ERW pipe
Check SS 316 ERW Pipe Weight Chart, Stock of Welded stainless steel pipe in wide Sizes and wall Thickness
Stainless Steel ERW Pipe is an Electric Resistance Welded Pipe. ERW steel pipes and tubes are used in many industrial applications. ASTM A213 304 ERW Pipes and tubes are used in various engineering purposes, fencing, scaffolding, line pipes etc. ERW steel pipes are available in various qualities, wall thicknesses, and diameters of the finished pipes. SS 304 Electric Resistance Welded Pipes find its usage for Agricultural purposes, Drinking Water for housings, in collieries for extraction of Water, Thermal Powers, Transports, Hand pumps for deep boring wells, as a strong protection for cables by Telecom Department, Structural Purposes and so on.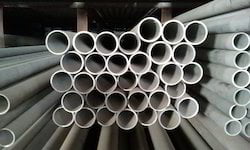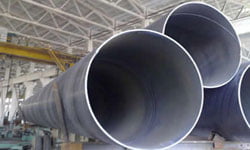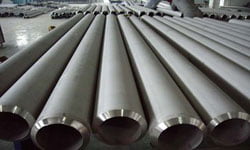 While manufacturing SS DIN 1.4301 ERW Rectangular Pipes only high-quality, continuous-cast, fully killed, control-rolled, fine-grain, low-carbon steel is used. High performance pipes and tubing possess high strength corrosion resistance, high strength, high deformability and high toughness. We are the leading stockholders and suppliers of ERW pipes and tubes in India. We are also one of the largest 304 SS ERW Hydraulic Pipes Exporter and Stainless Steel 304 ERW Pipe Leading Manufacturers in India.
Depending on the customer's requirements we can manufacture ERW pipes and tubes of different size and shape. We have a very large production capacity of ASTM A312 TP 304 SS ERW Pipes and are used in various engineering purposes, fencing, scaffolding, line pipes etc. These pipes are available in lengths from single random to 120 feet depending on mill capability. They are available with square ends or beveled for welding, threaded and coupled and Victaulic grooved. The surface finishes are available in black or bare, or with protective coatings.
We offer a huge array of ASTM A249 JIS SUS 304 ERW Pipes that are fabricated by using various grades of material steel and metal alloys. They are single welded or double welded. We offer pipes with radiography or without radiography.Stainless steel ERW pipes are fabricated in different alloys. Our comprehensive range includes UNS S30400 ERW Square Pipes, ERW alloy steel pipes, welded steel pipes and many more. We produce using world-class quality of steel and alloy to retain their durability for longer period.
| | | | | | | | |
| --- | --- | --- | --- | --- | --- | --- | --- |
| STANDARD | WERKSTOFF NR. | UNS | JIS | BS | GOST | AFNOR | EN |
| SS 304 | 1.4301 | S30400 | SUS 304 | 304S31 | 08Х18Н10 | Z7CN18‐09 | X5CrNi18-10 |
Stainless Steel 304 Electric Resistance Welded Pipe Specification
Dimensions : ASTM, ASME and API
Standard : ASTM A – 270, 249, 312, 269, 213, 268, 358, ASTM A106
Material Grade : Stainless Steel 304
Size : 8″ NB to 24″ NB
Wall Thickness : 0.5 to 150mm Thick
Schedules : SCH 5S , 10S ,10, 20 , 40S , 40 , STD , 60 , 80S , 80 , XS , 100 , 120 , 140 , 160 & XXS
Length : Single Random, Double Random & Required Length
Form : Round, Square, Rectangular, Hydraulic Pipes
Type : Electric Resistance Welded
End : Plain end, Bevelled end
SS UNS S30400 ERW Pipe Chemical Composition
| | |
| --- | --- |
| Element | SS 304 |
| Ni | 8.0 – 11.0 |
| C | 0.08 |
| Mn | 2.0 max |
| P | 0.045 max |
| S | 0.03 max |
| Si | 1.0 max |
| Cr | 18.0 – 20.0 |
304 Stainless Steel ERW Pipe Mechanical & Physical Properties
| | |
| --- | --- |
| Element | SS 304 |
| Density | 8.0 g/cm3 |
| Melting Point | 1400 °C (2550 °F) |
| Tensile Strength | Psi – 75000 , MPa – 515 |
| Yield Strength (0.2%Offset) | Psi – 30000 , MPa – 205 |
| Elongation | 35 % |
| Elongation | 35 % |
ERW Stainless Steel Pipe Size from 2 3/8 inch OD to 24 inch OD in Ready Stock at Chennai at Distributor Price, Jindal ERW Pipe Dealer in Tamil Nadu
Other Available Products Of Stainless Steel 304 ERW Pipe
Stainless Steel 304 ERW Pipes
ASTM A213 Stainless Steel Welded 304 ERW Pipes
A249 SS TP 304 ERW Welded Tubes Suppliers
ASTM A358 304 ERW Stainless Steel ERW Pipes
A312 SS 304 ERW Rectangular Pipes Manufacturer
TP 304 ERW Stainless Steel ERW Tubes Distributors
UNS S30400 Stainless Steel 304 ERW Square Pipe
Top Quality Stainless Steel 304 ERW Pipes Stockholder
ASME 304 Stainless Steel Electric Resistance Welded Pipes
Stainless Steel JIS SUS 304 ERW Black Steel Pipes
SS 304 ERW Austenitic Stainless Steel Pipes Stockiest
304 ERW Stainless Steel LSAW Pipes Dealers
TP 304 ERW Stainless Steel Hydraulic Pipes Suppliers
A269 SS 304 ERW Electric Resistance Welding Pipes Suppliers
Stainless Steel ASTM A213 TP 304 ERW Welded Tubing
Stainless Steel DIN 1.4301 ERW Round Pipes Exporter
AISI Stainless Steel ASTM A213 304 ERW Pipes
SS ASME SA 270 TP 304 ERW Welded Pipes Exporter